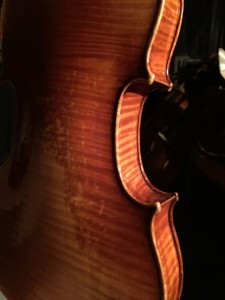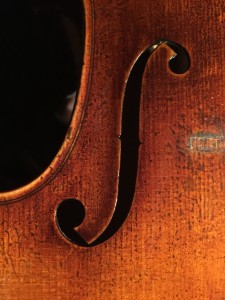 This dramatically beautiful viola is by the great J B Vuilluame made in Paris in 1847 and is opus #1773. It bears the handwritten number 47 on the interior  ( the upper back) surrounded by an ornament. It is a Strad inspired instrument that is a quite rare example both because of its perfect condition … but also its small size at 396 mm ( just over 15 1/2″).
It is owned and played by a man who studied with the great William Primrose as a young, ambitious player. He eventually dedicated himself to becoming a world class chemist… but still plays this inspiring instrument daily….at an unimaginably early hour for a nightowl like me!
Vuilluame is clearly the greatest maker of the 19th century outside of Italy. He has the most intimate knowledge  and collection of instruments of the great masters of Cremona….and he puts it to great use. This lovely viola captures Strad's powerful, ruggedly beautiful turns of the scroll….and the delicate grace of the F hole. The viola bears an original "wear" pattern on the back … beautifully executed by someone who has seen the natural effects of time and use on instruments that are played as well as cherished.
Everything about this fine instrument and player speaks of deep time….he has owned /played/cherished it for 50 years…and I see it yearly to keep it at its finest…. in addition to all the things I will (carefully!) do ….this year I will cut a new bridge for it…. the last one lasted 50 years! …. so I am thinking thoughts about deep time while I cut this bridge…..