Miguel Rojas – principal cellist of the San Juan Symphony and cello professor at the Conservatory had an upcoming solo performance of Don Quixote with his orchestra and he was struggling mightily with an unresponsive cello. He called and invited me down and graciously put me up and let me work in his office. He plays a big,broad Montagnana model cello by a Venezualan maker – the problem was that the neck angle was too low and not exerting enough tension on the top- therefore the cello didn't have the punch and projection needed to fill the hall in a solo role. It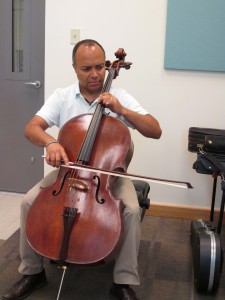 seemed to me that the best way to improve this situation – (with the challenge of working not in my shop – and having to bring my tools etc on an airplane)… I decided to put on a new fingerboard – knowing that the one on his cello was thin. I worked the fingerboard carefully to get the maximum height of neck angle -( knowing that in my experience the bigger,broader cellos of the Montagnana model like higher neck angles & more string tension). When this was done I cut a new Belgian bridge and fit a new soundpost. The cello sounded great….much bigger,powerful and alive! Talking to Miguel after his performance (sadly,I couldn't stay for it) he mentioned that he received a standing ovation! I am going to flatter myself that I played a small part in the nights concert.
While working at the Conservatorio I also had the pleasure of working on the violin of the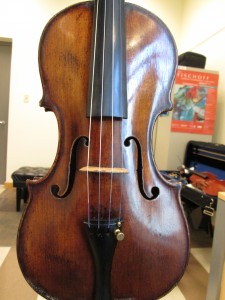 concertmaster of the S J Symphony – a beaiutiful Joannes Tononi that he had bought from Wurlitzers in th early 1960's
I also got to meet and work on the viola of the principal of the S J Symphony – a nice,big 17′ made by Hiroshi Iizuka- who i know from the Philadelphia area ( Hiroshi would often bring his instruments in to us at Moennigs for us to look at – talk about) In this case I needed to raise the neck angle and cut a new, higher bridge. The climate of Puerto Rico is very difficult on string instruments – the heat and especially the high humidity cause havoc with glue seams and joints – and often result in neck angles coming down.
My stay lasted longer than I had forseen – once finished with teachers instruments there were the instruments of the students….so 2 1/2 weeks later I left for the frozen landscape of Philadelphia
A vivid image in this post is from the balcony just off my work room – it looks over la Laguna to the fancy beaches and hotels of Condado to the bluest ocean I've ever seen – (where I luckily had a few opportunities to enjoy)
I would enjoy many a latte while admiring this view – knowing that it would exist Oz-like in my mind once I was back in the frozen landscape of home