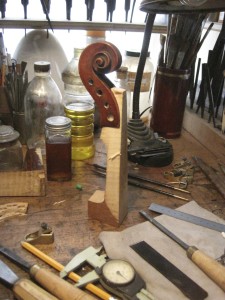 Its always enjoyable to do a neck graft….its a fascinating mixture of old and new. Old instruments need a neck graft for a variety of reasons – old necks were shorter than they are today -they were set at a lower angle – they wear from playing by the hand eroding the wood etc. In this case the old neck was too short and set too low.
First the scroll is cut off the old neck – the pegbox is then chiseled out with the sides feathered to receive the new wood of the graft. The graft is fashioned in a wedge shape so that you fit the scroll down through the tapered graft. Its crucial that all surfaces fit exactly – in the photo you can see that I am almost there
Once the scroll is glued to the graft – the pegbox is chiseled out – the fingerboard is glued on and the neck stock is prepared to set into the corpus of the violin. When the varnish is restored it should look as if nothing has happened …and this fine, old French violin will perform better than ever….
An interesting instance of the collaborative nature of the many hands that enable an old instrument to have a long vibrant life.